Better child contact outcomes Unified resource management, collaboration and reporting tools
ContactsPro is a Child & Family contact management system for professionsals and teams working in the child contact sector.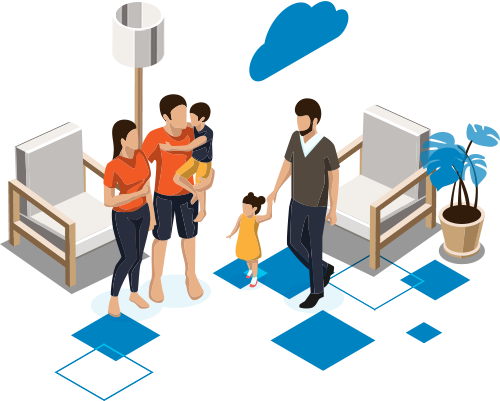 Unified Approach
The ContactsPro strategy
ContactsPro aims to bring together all the tools needed to manage an effective and efficient child contact service in one unified platform.

Whether you are a contact supervisor, co-ordinator or senior manager everyone has access to up to date information with referral and case history, previous and future contact meetings and outcome tracking.
Features
Core system features
Person & Family Case Tracking
Record, search & manage the case of an individual child or adult, review past and future contacts and trends.
Contact Series Planning
Easily plan and create contact schedules around complex meeting requirements and manage change in bulk or per contact
Staff Roster & Availability
Contact co-ordinators and support staff can manage their work roster and see their schedule, feeding conflict resolution.
Location & Resource Management
Manage the usage and availability of all the physical and virtual places your service user meet and view on resource calendars.
Advanced Conflict Identification & Resolution
Powerful tools to detect conflicts in your schedules for users, staff and locations with intelligent resolution suggestions.
Resource Usage & Contact Outcome Reporting & Insights
A dedicated reporting dashboard to show resource usage, family & child outcomes, cancellation reason breakdowns and more.

We'd like to show you how our system can be used to facilitate and inform your child contact operation.
Modules
ContactsPro modules to extend and enhance the system
Visitor Management
Digital arrival registration
Choose from expected arrivals
Prevent "look-backs" in paper log sheets
Add attendence performance to case history
Extend Reach
Create bespoke forms
Distribute to service users and staff
Easy to complete on mobile devices
Collate and report on submissions
Digital Signage
Easy to view office summaries
Alerts and alarms
Performance and efficiency displays
Contact room and waiting room displays
Insights
Insights & Benefits of the ContactsPro system
The system is saving us hundreds of staff hours per year
Before we were organising contacts on a month by month basis, now we can plan contact sessions for 6 months in advance and can better predict our resource needs.
Now I can see schedule changes and cancellations, and feedback contact reports in real time.
Moving from our previous spreadsheet solution has significantly reduced errors and failed contact meetings.
Talk us through your contact building process.